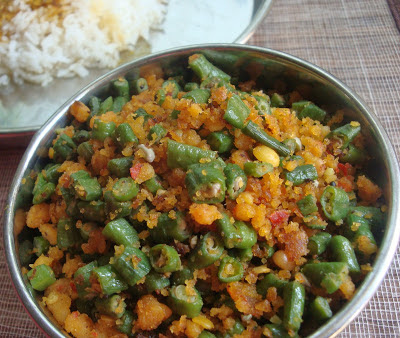 Ingredients
Yard Long Beans – ½ kilo chopped fine
Toor dal/Red gram – ½ cup soaked for 2 hours or overnight
Whole dry Red chillies – 4 soaked along with the dal
Salt to taste
Oil – 3 tbsp + 1 tbsp
Mustard seeds – 1 tsp
Asafoetida – a pinch
Method
Rinse Toor dal well in 2-3 changes of water till the water runs clear. Then soak the dal and whole dry red chillies together for 2 hours or overnight if you can't afford 2 hours soaking time during busy mornings.
Drain the water, and grind together the dal, chillies and a little salt adding very little water to a thick paste.
In a kadai/skillet, add 2 tablespoons of oil and when hot add the ground dal paste and fry. Keep stirring and scraping as the dal tends to stick to the bottom. Add one more tablespoon of oil and continue frying till the paste turns crumbly and is quite dry (like bread crumbs) but not hard - about 7-8 minutes. Remove on to a plate.
In the same skillet, add 1 tablespoon oil and when hot add mustard seeds and let splutter. Then throw in the curry leaves and asafoetida and sauté for about half a minute. Then add the chopped yard long beans (karamani) and mix well. Add very little water 2-3 tablespoons, of water, some salt and cook covered on low till the beans are cooked through – about 7-10 minutes. Open and cook on high so that the water evaporates.
When the beans is quite dry, add the fried dal mixture and mix well. Simmer on low for 2-3 minutes for the flavours to blend. Switch off. Serve hot with rice.
Recipe credits : http://foodbetterbegood.blogspot.in
0 Comments